MiLLaT Webinar 
Mediation in Language Learning and Teaching

Webinars "Mediation in Language Learning and Teaching", organised by Vytautas Magnus University, Lithuania, were held on the 8-9th of December 2020. The two-day event was targeted at higher and secondary education teachers. Its main objective was to provide training on innovative mediation activities or strategies and disseminate the intellectual outputs of the MiLLat project. About 70 teachers and university lecturers from Poland, the Czech Republic, Finland, Greece, Lithuania, Latvia and Estonia participated in the event which was organised online. Among the webinar participants, there were teachers from secondary schools, gymnasiums, state colleges and universities. 
On the 8th of December, an honourable guest and the moderator of the webinar, Enrica Piccardo, professor of Applied Linguistics and Language Education at University of Toronto, Canada, delivered a webinar titled "The new CEFR descriptors for mediation and the dynamic nature of language learning: from the conceptualization to the class". Enrica Piccardo has extensive experience in language education research, teacher development and teaching of multiple languages. She is also the co-author of the Common European Framework of Reference for Languages, Companion Volume, which introduces the new descriptors for mediation in language education. Daiva Pundziuviene, chair of EFL department at Vytautas Magnus University, Lithuania, presented a short overview of the intellectual outputs of the MiLLat project.
On the 9th of December, Kris Peters, professor and chair of the Department of Translation and Interpreting at the University of Antwerp, Belgium, and executive board member of the European Language Council, delivered a presentation titled "The place and importance of mediation in language teaching and learning". After the presentation, the participants were actively engaged in the webinar delivered by Robert King, who teaches at the University of Birmingham and is a Senior Content Developer for Pearson ELT. The webinar participants mutually agreed that mediation can bring more empathy, tolerance and flexibility to the classroom and help students' develop their socio-emotional and communication skills. The takeaway message of the webinars was that a language teacher does not only develop language learners' linguistic competence but also teaches them to respect human values and be less self-centred.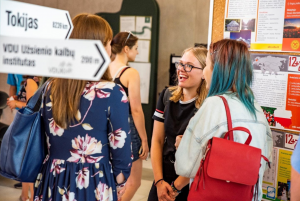 More about MiLLat webinars:  uki.vdu.lt/seminaras
About MiLLat webinars on Vytautas Magnus University website: 
About MiLLat webinars on VMU Institute of Foreign Languages website and social media: 
---
Call for papers! 
International Scientific Conference SUSTAINABLE MULTILINGUALISM 2021
The Institute of Foreign Languages of Vytautas Magnus University and Language Teachers' Association of Lithuania would like to invite you to the SUSTAINABLE MULTILINGUALISM 2021 conference, which will be held in Kaunas, Lithuania. 
For more information visit: sustainablemultilingualism.com
---
Sustainable Multilingualism, a biannual scientific journal, indexed in SCOPUS, published by project partners at Vytautas Magnus University, (Kaunas, Lithuania) and Sciendo welcomes submissions of research articles on various aspects of language learning and teaching, including mediation. Submissions are open in various EU languages all year round.
The journal of scientific papers aims at fostering sustainable multilingualism and multilculturalism by presenting research on the issues of language policy, preservation of minority and less widely taught languages, maintenance of linguistic rights, language ecology, pluralistic approach to languages, acquisition and development of plurilingual competence, interdisciplinary language-sensitive teaching, mediation, intercultural dialogue development and plurilingual didactics. The need to research multilingualism as an essential feature of the dynamic and coherent international community is urgent under contemporary conditions of socio-political climate.
For more information visit: http://uki.vdu.lt/sm 
---
What is Mediation in Language Learning and Teaching and How Does It Manifest?
The MiLLaT poster was presented by Michaela Konarkowa and Sarka Kadlecova at Cercles Conference, Brno, September 10, 2020.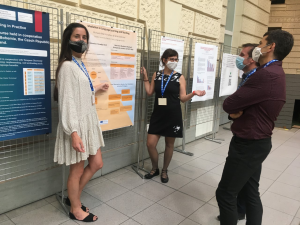 The Czech partner disseminated the MiLLaT Project internationally via publishing and presenting MiLLaT poster during the Cercles Conference in Brno in September 2020. The target group included the colleagues from Czechia, Slovakia as well as representatives of foreign language centres in Fribourg i. e. educators working at all levels.
Cercles brings together 350 Language Centres, Departments, Institutes, Faculties or Schools in Higher Education whose main responsibility is the teaching of languages, which makes it an ideal target audience for our project.